5/19/07
Bakhtiari to display calligraphy-painting works in Los Angeles
TEHRAN, May 19 (Mehr News Agency) -- Iranian artist Javad Bakhtiari is to display a collection of his calligraphy-painting works in Los Angeles, California, opening on June 9.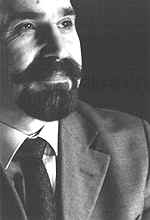 Javad Bakhtiari (photo by Masoud)
A total of 18 calligraphy paintings, and 22 works representing the human figure, will be put on display at the Los Angeles City Art Gallery.
His works represent mankind's return to its origin of mud. Bakhtiari considers that his works depict the return of man's ego from the world of materialism. The background of the works is inspired by the flowers and wheat clusters that can be observed etched on the monuments at Persepolis.
In most of his works, women are portrayed symbolically and have the faces of innocent angels.
Contrast is a key feature of his recent works which are bright and colorful, reflecting his living conditions over the past few years.
For the past ten years, Bakhtiari has put aside his teaching at art universities and has concentrated on calligraphy painting.
Bakhtiari uses the color gold in his paintings as a decorative touch, in the style of Shirazi artists of the past, who used to paint the blue sky in a golden hue.
His representations of the human figure are not clothed in traditional costumes, however they have an Iranian and oriental air.
Bakhtiari has announced that he will be holding an exhibition in Iran displaying reproductions and prints of his recent works.
He has also published a series of books including "Mystery of look", "Dawn of Night", 'Word of Love" and "Inscription."
... Payvand News - 5/19/07 ...
... Payvand News - 5/19/07 ... --