Against opposition from the White House and the wider U.S. foreign-policy establishment, the Foreign Affairs Committee of the U.S. House of Representatives voted 27 to 21 on October 10 to approve the nonbinding resolution. The measure is now likely to be sent on to a vote in the full Democratic-led House, where a majority has already signed on to the resolution. A parallel measure is in the Senate pipeline.
Armenian President Robert Kocharian welcomed the vote, for which the Armenian community in the United States lobbied heavily.
"We look forward to seeing further developments in a full House hearing," Kocharian said in Brussels today. "And we hope that this process will lead to the full recognition by the United States of America of the fact of the Armenian genocide."
Opening an Armenian parliament session in Yerevan today, speaker Tigran Torosian expressed gratitude to U.S. representatives for their "high moral qualities" and for resisting "various pressures."
Acknowledged Fully
The text of the resolution says the killing of up to 1.5 million Armenians was genocide and that it should be acknowledged fully in U.S. policy toward Turkey, along with "the consequences of the failure to realize a just resolution."
"To be able to have a negative impact on [a country], one side has to have at least some kind of relations so that they can be impacted in a negative manner. In our case, there is nothing that can be worsened or limited by the adoption of this resolution." -- Armenian President Robert Kocharian
U.S. President George W. Bush has led the charge against the measure, warning it could do serious harm to U.S. relations with Turkey at a time when Washington sees Ankara's support for U.S. policies in Iraq, Iran, and the wider Middle East as vital. Joining Bush are an array of former U.S. officials, including eight former secretaries of state and three former Pentagon chiefs -- not to mention a well-funded Turkish lobby in Washington.
Ankara, which provides key logistic support at its Incirlik air base for U.S. operations in Iraq and Afghanistan, has threatened to downgrade military cooperation with Washington if the resolution achieves full congressional approval. Turkey has also reportedly threatened other steps, such as limiting cooperation with Washington on energy transportation or democracy promotion in the wider Muslim world.
But Kocharian scoffed at the notion that the resolution could negatively impact Armenia's ties to neighboring Turkey.
"To be able to have a negative impact on [a country], one side has to have at least some kind of relations so that they can be impacted in a negative manner," Kocharian, appearing alongside EU foreign policy chief Javier Solana, told a news conference. "In our case, there is nothing that can be worsened or limited by the adoption of this resolution."
'Essential Change' Unlikely
Armenian lawmaker David Harutiunian praised the lobbying by U.S. Armenian organizations, adding that he, too, believes the resolution is unlikely to bring in any "essential change" in the Armenia-Turkey relations.
"Even if there is some change, it will be of a very temporary nature," Harutiunian told RFE/RL's Armenian Service. "I said a few years ago that Turkey would itself recognize the genocide in the next 10 or 15 years, and I have the same conviction today."
But Armen Rustamian of the Armenian Revolutionary Federation said the resolution could be vital in changing Turkey's approach to the controversial issue.
"I think it will make Turkey revise its stereotypes and show a serious approach to the Armenian genocide issue," Rustamian told RFE/RL. "I am sure that Turkey will itself gradually understand that this resolution marks the beginning of Turkey's modernization and reform."
Stepan Safarian of the opposition Heritage faction said the resolution would boost the trust of Armenians in the international community and in the idea of justice. He added that he doesn't believe it will have "any tangible consequences" on Yerevan's troubled relations with Ankara.
Damage Rapprochement?
Others begged to differ. Armenia, after all, for commercial reasons among others, is keen on opening up its long-closed border with Turkey. But Turkish media reports suggest the U.S. resolution could dent movement toward achieving any such rapprochement.
In Baku, Azerbaijani Foreign Ministry spokesman Xezer Ibrahim said the resolution harms efforts to bring together Armenia and Turkey.
"Unfortunately, in taking this kind of sensitive decision, the U.S. legislators are moved by narrow political considerations rather than the national interests of the United States, real facts, and historic facts," Ibrahim told RFE/RL's Azerbaijani Service. "The Turkish side has offered for there to be [established] a joint commission of Turkish and Armenian historians to explore the facts and find out the real truth [of the Armenian massacre]. Unfortunately, this kind of offer was rejected by the Armenian side."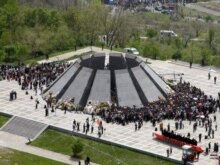 Touching on that same issue, former U.S. Ambassador James Holmes, who is now president of the American Turkish Council, suggested that Armenia and its diaspora have concrete interests to avoid resolving the issue with Turkey. In an interview with the "Turkish Daily News" on October 10, Holmes said he believed that one aim of the Armenian diaspora, in seeking to get the United States to call the massacre a genocide, is to open to the legal door to demands for restitution and insurance payments -- and even claims to Turkish territory by Armenia.
Solana, striking a conciliatory tone, said the EU wants both Armenia and Turkey to "look to the future in a constructive manner" so they can undergo the same kind of reconciliation process that helped rebuild postwar Europe.
Turkish Denials
Turkey has long denied that the slaughter of Armenians during the Ottoman Empire's collapse during World War I was an act of genocide. Instead, Turkish officials say the deaths resulted from forced relocations and fighting during a period of chaos, and that hundreds of thousands of Turks also died at the same time.
But with Turkey's bid to join the EU, European officials have also made it clear that they see the country's failure to fully come to terms with the Armenian massacre as a hindrance to domestic democratic progress -- and hence, to the country's efforts to join the bloc.
In a move that underscored such concerns, a Turkish court today found the son of Hrant Dink, a respected ethnic Armenian Turkish journalist assassinated earlier this year in Istanbul, guilty of insulting Turkish identity. Arat Dink and a colleague were given a one-year suspended prison term after reproducing an interview in their newspaper in which Hrant Dink, who was killed by an ultranationalist youth in January, said that the massacre of Armenians in 1915-17 was genocide.
(RFE/RL's Jeffrey Donovan compiled this report with contributions from Ruzanna Khachatrian and Ruzanna Stepanian of RFE/RL's Armenian Service in Yerevan and Arifa Kazimova of RFE/RL's Azerbaijani Service in Baku)